Taking care of your pool is easier than ever from wherever you are! We provide sales and installation of intelligent pool control systems that you can control from your smartphone, tablet, or web-connected device.
iAquaLink™ 2.0
Smart Device. Smart Pool. Smart You.
Intelligent pool control from your smartphone, tablet, or web-connected device. iAquaLink allows you to control your pool anytime, anywhere. Using our free app for your smartphone or web-connected device, you can control all the elements of your pool or pool/spa system, even when you're on the go.
iAquaLink can be used on more mobile device platforms than any other pool control system.
Free apps for Apple® and Android™ smartphones and tablets.
Mobile web-app works on virtually any other smart device.
iAquaLink is Easy & Convenient
On the golf course or on the go, control your pool anytime, anywhere with iAquaLink. The most intuitive and user-friendly mobile pool controller ever, iAquaLink can be used alone or combined with the complete line of wall-mounted or wireless AquaLink® interfaces. User accounts can be created in minutes, used immediately, and the service is free! Control multiple pools from a single app and have the pool or spa ready to use as soon as you get home. Forgot to turn the temperature down while on vacation? Not a problem with iAquaLink.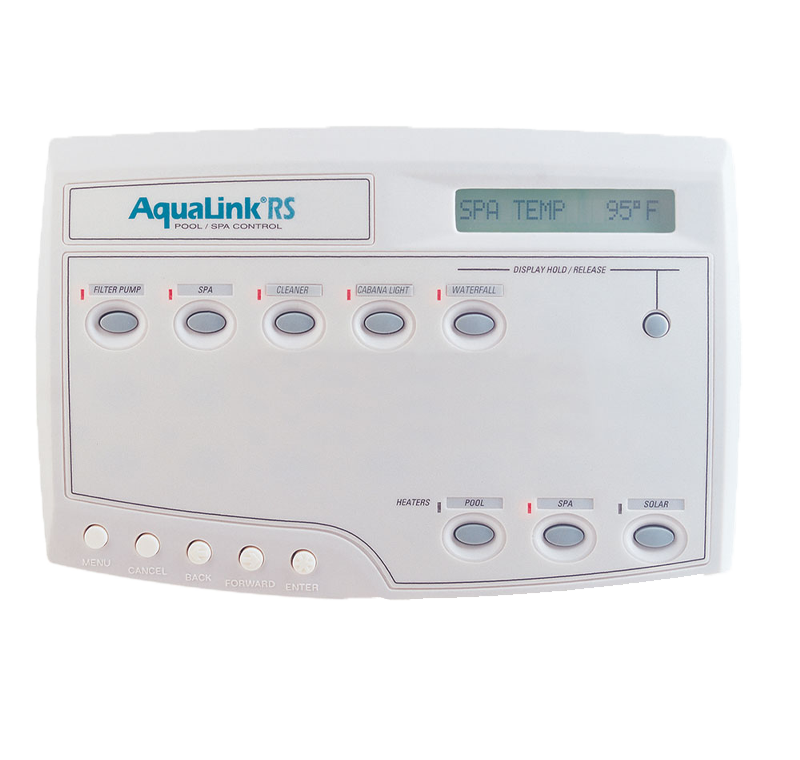 AquaLink® RS All Button
The AquaLink RS All Button is attractively styled, easy to operate, and has a single line digital screen that displays temperatures, date, time, and equipment status.
The buttons are individually custom-labeled to match the need of each system. The All Button commands up to eight auxiliaries, filtration systems, temperature settings, pump speeds, and diagnostics. The real measure of a control system is not how large and complicated it is, but how compact and easy to use. Spend your time enjoying your pool and spa, not dealing with the responsibilities of maintaining it.
The AquaLink RS does that work for you. With built-in features like automatic heater cool down, self-monitoring freeze protection, and pool cleaner safety delay, the AquaLink RS virtually eliminates any concerns about equipment operation. Plus, all AquaLink RS control systems are backed by some of the strongest and most inclusive warranties in the industry. So relax and rest assured that your investment is protected and everything is set just right. The AquaLink RS has it all under control!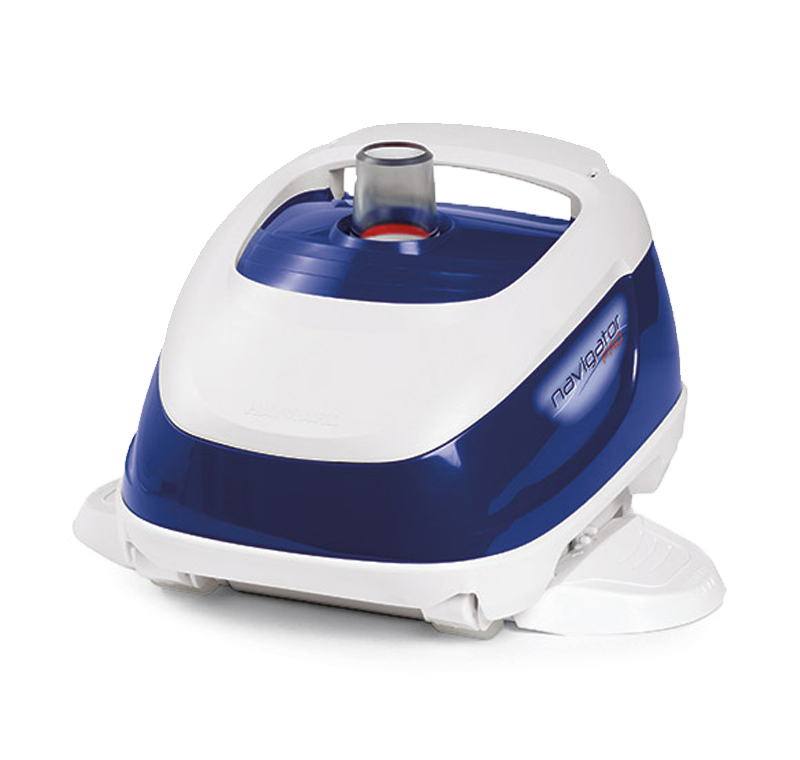 Navigator® Pro
Navigator® Pro's exclusive SmartDrive® programmed steering moves the cleaner silently in a predetermined series of turns for more thorough cleaning and is powered by your existing filtration system so you don't have the expense of an energy-consuming booster pump.
Exclusive SmartDrive programmed steering efficiently cleans any residential pool
Advanced Suction Technology uses the pool's existing filtration system
Silent Operation – No pulsating hoses or noisy parts, for a peaceful pool environment
Easy to use connects in less than 10 minutes to skimmer or suction port
Make Your Pool the Best Part of Staying at Home
Never come home to a cold pool again! Use the latest technologies for pool automation that makes it easy for you to enjoy your pool.